We are so much more than a cleaning or janitorial service. Read on and discover what sets us apart.
Hi there. I'm Juan Carlos Garcia, owner of AJC Building Maintenance. We are a small company dedicated to making your floors and surfaces look great and reflect who you are. Our services include: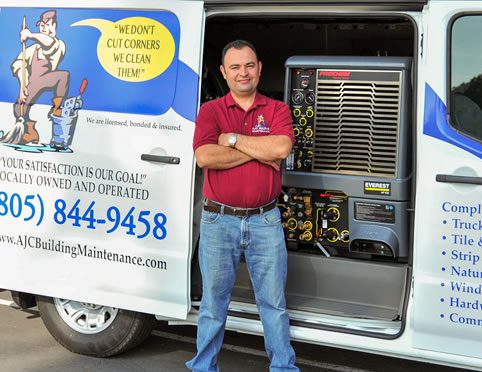 We treat our clients and their property with care and respect. We know that your time is valuable. Therefore we make a point of being on time for our appointments and getting the job done right the first time.
We will never underbid and cut corners or overbid and pad our pockets. With AJC Building Maintenance, you can always count on a fair and honest, competitively priced estimate for the highest quality work.
We want to help you keep your floors and surfaces looking their very best all the time, so we make it a point to leave you with our professional recommendations and instructions for care products.
Friendly technicians, respect for your property, and the results we promise, every time. We won't be satisfied until you are, and we'll put it in writing. This is one of many reasons people choose AJC Building Maintenance.
Rooted in Southern California, we have established partnerships that contribute to the growth of the local community.
From local home and property owners to business owners and Southern California's institutions, we've had a hand in many local operations. Our cleaning and restoration services are often custom-designed to meet the exact needs of a particular client, which means that we're able to address jobs of all sizes and shapes.
As a local company, AJC Building Maintenance clients include industrial buildings, offices, retail stores, private homes, and many other properties. We're happy to serve Southern California with the best possible floor and surface care services.