Terrazzo Polishing -
Southern CA
NATURALLY POLISHED TERRAZZO
STRIPPING AND WAXING OVER AND OVER… THERE'S A BETTER WAY
Terrazzo is a beautiful, resilient, low-maintenance flooring option, only people generally don't realize this because terrazzo is so often subject to improper cleaning and care. Terrazzo is commonly waxed to achieve a shine. The problem with this is that waxes yellow and have a tendency to collect dirt and become scuffed and scratched. In an attempt to improve the appearance of the floor, people then strip and re-wax the terrazzo. It looks decent for a little while, but then the whole process starts over again. Waxing and stripping, waxing and stripping, ad nauseam, ad infinitum. This cycle is costly and time-consuming. Fortunately, there is a better way.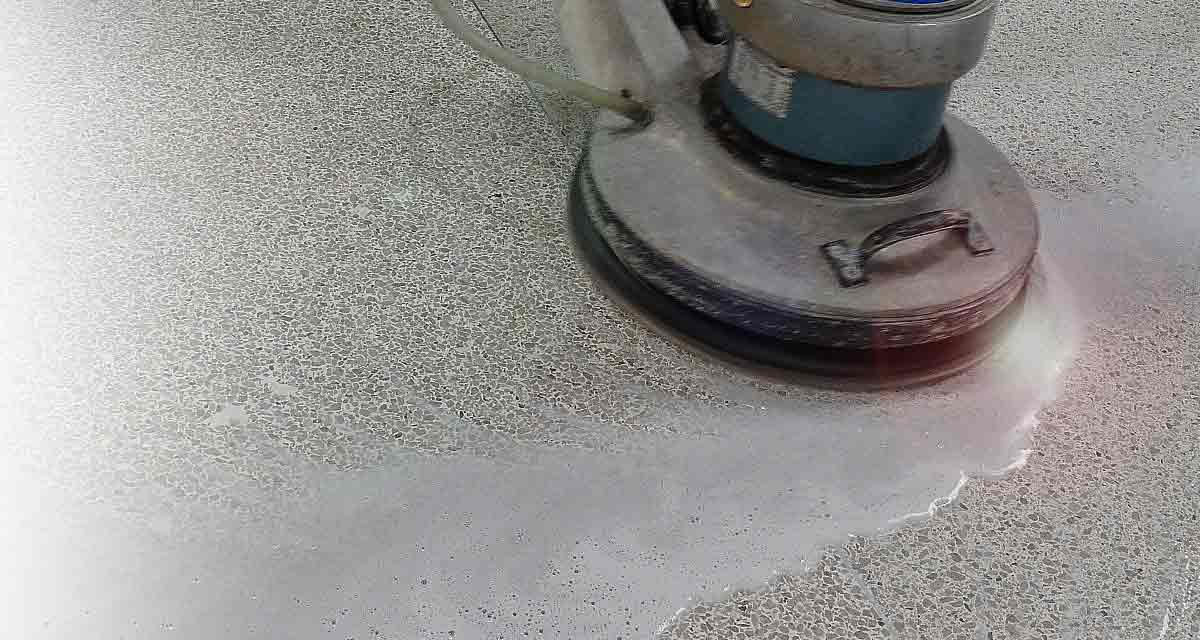 Terrazzo Restoration Service Overview
Terrazzo can be restored using the same process that is used in restoring marble and granite. It can be honed and polished, using a natural polishing process, to achieve a gloss or matte finish — according to your preference.
When terrazzo is refinished naturally, honing removes the uppermost layer, revealing the brand new layer underneath. Polishing to a gloss or matte finish gives your terrazzo the look you want and eliminates the need for stripping and coatings. With natural refinishing, you can reduce maintenance costs, save time, and have a clean, beautiful terrazzo floor that will wow your family and guests or clients and employees.
AJC Building Maintenance can repair chips and cracks, remove carpet tacks and glue, hone, polish, and completely restore your terrazzo floors and surfaces to like new.
Terrazzo is a unique surface, primarily found as flooring, that traditionally contains marble chips of different sizes and colors held together with a cement base or, in newer applications, with a resin or epoxy base. Aggregates other than marble may also be used.
We educate our customers on the proper care and maintenance of terrazzo. We also recommend the appropriate cleaners and care products to keep your terrazzo looking like new with minimum maintenance. Visit our Stone and Tile Care page for more details and a free, downloadable Stone and Tile Care Guide.
Unlike many other services, we can't quote a price per square foot. There are too many variables to consider. How bad is the damage? What kind of damage is there? What level of sheen are you looking for? All of these things, and more, need to be factored in to give you an accurate and fair quote. We do provide free, on-site estimates and will be happy to discuss your specific needs.