Wood Floor Restoration -
Southern CA
Even the highest-quality wood floors can take a beating over time, losing their rich luster through constant wear, and developing scratches and stains. At AJC Building Maintenance, we understand that your hardwood flooring is a significant investment and deserves the very best workmanship and care. You can trust our knowledgeable team to dramatically improve the appearance of your hardwood floors.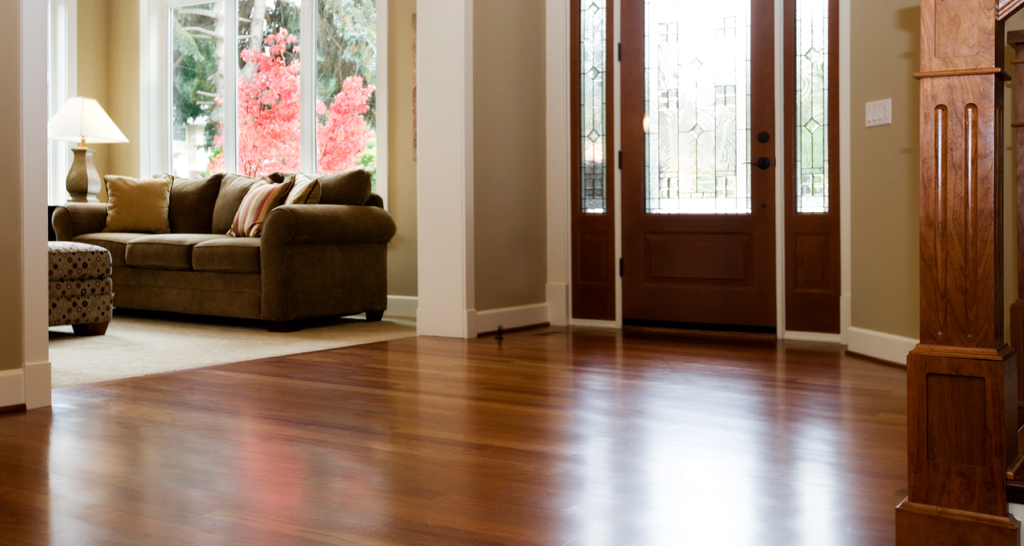 Our Deep Cleaning Process
Our deep cleaning process includes vacuuming with equipment fitted with HEPA filtration. If we are cleaning after new construction, we scrape any paint or drywall compound that may have inadvertently dropped on the floor. We scrub the floor with a weighted floor machine with nylon floor pads and a pH-neutral, non-toxic cleaner formulated specifically for hardwood. Then, we vacuum again to remove any grit or particulate created from the scrubbing process.
Our Buffing and Coating/Refinishing Process
If the shine of your floor is obscured, the finish appears thin in areas, your floor needs some TLC but you're on a budget, or you are getting ready to sell your home, our buffing and coating services will be just right for your needs.
The first step in hardwood floor refinishing is to clean the slate, so to speak. Our extremely thorough deep cleaning process described in the previous paragraph properly prepares your floor for refinishing. When we buff and refinish floors we combine the deep cleaning and buffing process and then tack the floors with a micro-fiber cloth to remove any trace of dust that might interfere with refinishing. 
Buffing is a light sanding process that erases minor scratches and damage and helps the new finish adhere to the existing finish. Our buffing and coating does not require harsh chemicals or the expense of a full sanding. We apply a new coat of finish to the prepared floor to brighten, shine, and obscure minor blemishes. Our buffing and coating process makes a dramatic difference in the appearance of the floor.
Why Buffing and Coating Instead of Sanding?
Some floors do not require a full sanding for a like-new, beautifully reflective finish. Our buffing and coating or light refinishing process rejuvenates an existing polyurethane finish by top coating it. This process achieves incredible results at less cost than a full refinishing. 
Please note that some polishes and coatings are not compatible with this process and must be removed with sanding. Floors with deep gouges that break through the finish, pet stains, or water marks will need a full sanding.
We can consult with you and give you an honest assessment about whether buffing and coating will achieve the results you want or if a full sanding will be necessary.
Wood Floor Sanding & Refinishing
Let AJC Building Maintenance sand and refinish your wood floors so that they look fresh, clean and welcoming. Even very damaged floors can be restored to a walk-on-me-barefoot appeal.
If your wood floor has any of the following issues, it may be time to refinish.
The walk areas look worn, dull or thin compared to other areas
There are scratches or marks from furniture or things tracked or dragged across the floor, such as chairs, heavy furniture, toys, and even high heels
The scratches or gouges feel deep, gaping or go through the finish
There is evidence of pet damage, such as urine marks, nail scratches, and chewing
You can see dark water marks, rings or black areas on the boards, from plants, water leaks, leaky windows, appliance failure, sink overflow, etc.
Milky or cloudy patches are seen on the floor, or pealing or blistering off areas in the finish
Direct sun lit areas have faded. There may be a difference when area rugs are removed from the floor or moved.
Polish has been used on the floors, or popular coatings readily available to treat the floors. Even furniture polish over-spray can impact the finish.
Boards are damaged, missing, split, cupped or curled
You have "vintage," old, outdated wood, but you are looking for an updated "fresh" look
---
AJC Building Maintenance services the Southern California area. For a FREE consultation and estimate on professional wood floor restoration services, call (805) 844-9458 or fill out our contact form. We look forward to hearing from you!