Marble Polishing and Restoration -
Southern CA
Restoring the timeless elegance to your marble
Has your marble or limestone lost its luster? We can restore it to like new! Marble floors that have become dull and damaged will need professional services to restore the elegant luster and keep them looking their best. At AJC Building Maintenance, we know what it takes to make your marble surfaces look sensational. If your marble is dirty or dull-looking, scratched, etched, cracked, chipped, or otherwise damaged, don't replace it! See what our cleaning, polishing, restoration and protection services can do for your marble.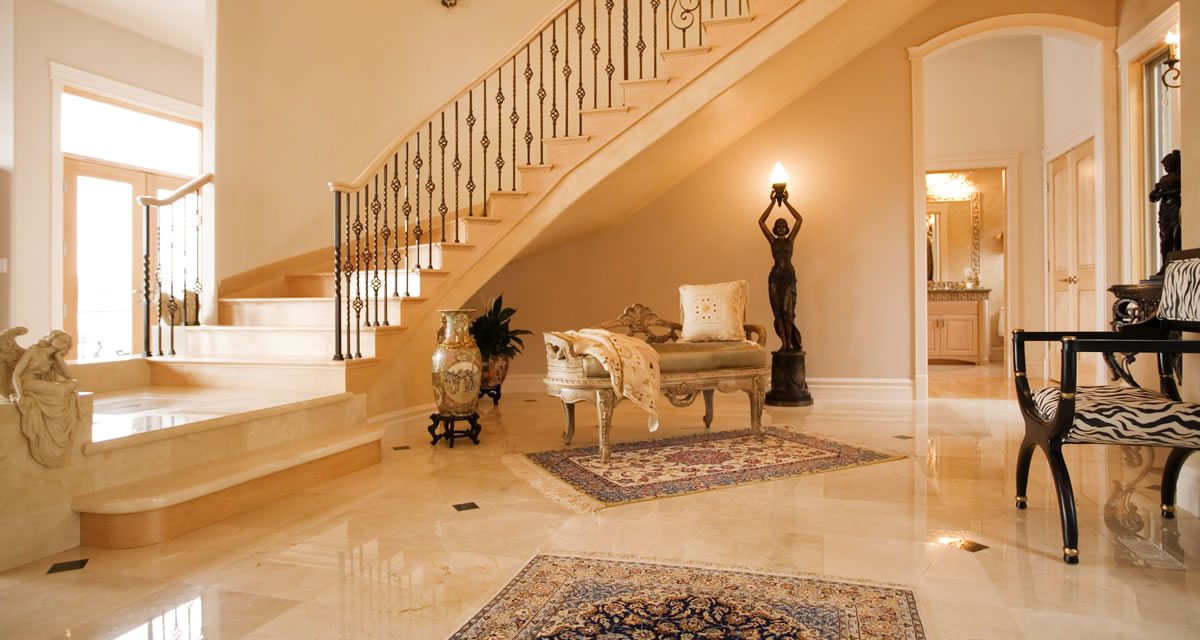 Do you have marble floors, countertops, walls, or other marble surfaces? What marble services do you need? We provide complete marble floor and surface care and professional maintenance services for residential properties, including both interior and exterior marble surfaces. Keep reading to learn more about how we can meet your needs.
Refinishing
Is your marble floor too dull or too shiny? If you have a new floor with some tiles that look more glossy than others – let us even out the finish for you. Whether you have or are seeking to acquire a gloss, semi-gloss or matte finish, we can deliver a beautifully restored or changed marble finish.
Honing
Does your marble floor have dull areas associated with wear patterns, scratches, etches or spots? AJC Building Maintenance can hone your marble surfaces to eliminate these imperfections, resulting in a new marble surface free of damage. With our marble honing services, our expert technicians can achieve a honed or soft matte finish that is warm, inviting, and velvety smooth.
Polishing
An uneven finish, dull spots or etches can diminish the elegant appearance of your marble floors and surfaces. AJC Building Maintenance can polish your marble using the appropriate diamond-infused pads or polishing powders to restore the finish you want, whether matte, semi-gloss or gloss finish. With our marble polishing services, our expert technicians can achieve the exact finish you are looking for.
Lippage Removal / Grinding
Are your marble tiles uneven? Do you want your tile floor flattened to the grout lines to facilitate easier cleaning? We can grind away the excess stone (a process called lippage removal) to create a flat, level surface using state-of-the art diamond grinding technology. Once ground to the level and shape desired, the marble is honed and polished to the finish you want.
Repair
Do you have chipped marble tiles? Are there cracks in your floor? What about broken marble tiles? Before you replace your marble, consider having us provide expert marble repair services. AJC Building Maintenance can fill holes in marble, fix marble cracks and chips, blending the repair site with the surrounding area, and honing and polishing it to match the finish on the rest of your marble floor, countertop or other stone surface.
Tile Replacement
Although it is rare for a marble tile to be beyond repair, sometimes tile replacement is necessary. Our craftsman can, in many cases, remove your affected tile without damaging neighboring tiles, reinstall the new tile, level the installed tile with the surrounding area, and then match the finish as closely as possible.
Stain Removal
We can remove marble stains and discolorations. Whether you are seeking guidance on how to do this yourself or you want us to treat your marble, the original finish of your stone can usually be restored.
Cleaning and Sealing
Some natural stone types are more porous than others, and the more porous a natural stone is, the more susceptible it is to staining. Your marble will be easier to keep clean with periodic professional deep cleaning services, using non-acidic, highly-effective cleaning solutions. Once your marble is cleaned and restored, we may recommend you have us seal it to enhance its stain resistance. We say, "May" because not all stone needs to be sealed. Highly polished stone may not even take an impregnating sealer. But, if sealing is recommended, know that sealing represents an inexpensive, preventative measure against stain damage, because it buys you time to wipe up spills before they become stains.